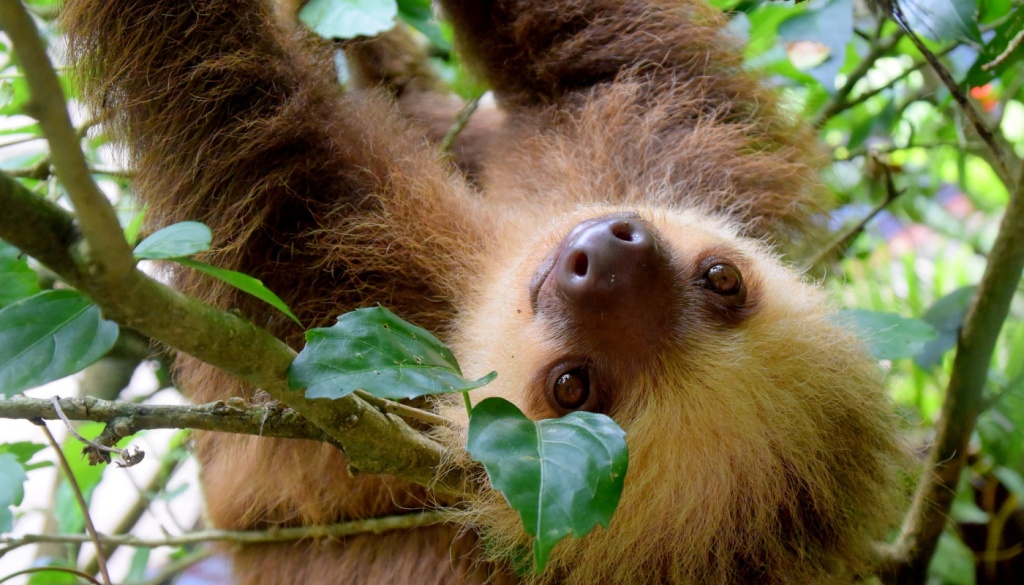 Surfing, Stretching & Relaxation, Spanish Grammar in Costa Rica
Summer 2023 Short Program
Be part of an unforgettable surf adventure with SBCC instructor Sally Saenger and like-minded students. Learn to surf or improve your technique in the warm, clear blue waters of Costa Rica. After a day of working on your Spanish language and surfing skills, enjoy stretching and relaxation exercises on the beaches and in the jungle environment near the famous Manuel Antonio National Park. All this and more is included in one magical summer program with SBCC! Pack lightly to visit this popular beach town on the Costa Rican Pacific Coast with pristine beaches and warm temperatures. You'll want to explore the area on a Mangrove boat tour, investigate a volcano with natural hot springs and marvel at the beautiful waterfalls during a rainmaker tour. Costa Rican culture is a vibrant blend of indigenous heritage, Spanish colonial influence and many other immigrant cultures. The result is a nation of friendly, welcoming and happy people. Join the program and experience Pura Vida!

June 3, 2023 (leave the US) - June 25, 2023 (leave Costa Rica)

Sally Saenger, M.Ed, a Santa Barbara native, is a certified fitness professional who has been teaching at SBCC in both the credit and non-credit division since 1982. While getting her bachelor's degree from the University of Hawaii, she developed her skills as a swimmer, surfer and outdoor enthusiast. She received her Master's Degree in Education from Azusa Pacific University. Sally has a strong background in aquatics, stretching and relaxation techniques, and functional fitness for older adults. She has been recognized for her teaching and service to the community by several organizations. Most recently she was awarded the prestigious Hayward Award for Excellence in Education. Sally has vast experience in the sports and fitness industry. She has led several fitness-related travel groups and taught internationally in the Bahamas, Dominican Republic and Mexico. Sally's knowledge and passion for teaching is evident, and her positive energy is contagious.

You can contact Sally via email at sasaenger@pipeline.sbcc.edu

To acquaint program participants with the cultural aspects of life in Manuel Antonio, Costa Rica, a series of mandatory as well as optional free or inexpensive activities are planned, which varies but often includes lectures on local customs and contemporary issues, sports events, walking tours, sight visits, and dinners. The below tentative excursions are included in the program (subject to change):

Visit to Manuel Antonio National Park
Rainmaker Tour (Waterfals and more)
Mangrove Boat Tour
Arenal Volcano & Hot Springs (2 days, 1 night)
Weekly Salsa Dancing Lessons
Traditional Cooking Class
Tandem Conversation Program


In addition, there are many optional (fee based) activities available in the area. Check out this video for some examples.

Some examples are:
White Water Rafting: $78
Ziplining- Canopy Tour: $100
Nauyaca Waterfalls: $100
Timaran/ Catamaran Boat Tour: $105

You do not have to be currently enrolled at SBCC to apply for the program. However, you must meet the following requirements to participate in the program:

- Must be in good academic standing
- Must be at least 18 years old on the day of departure
- Must successfully complete the application process and submit all required documents
- Must be able to demonstrate an ability to swim competently nonstop for 100 meters no later than one month prior to departure. Set up the time with the instructor once you have received the notice that the 20 student minimum has been reached. If you are not located in Santa Barbara, contact the instructor for instructions.

After acceptance to the program and official program-go announcement:
- Must enroll at SBCC for the summer 2023 term in order to participate in the program
- Must follow the instructions provided in the registration letter from the Study Abroad office in order to register for all courses offered on the program. Course CRN numbers can not be accessed on the SBCC course catalog.
- Must make the non-refundable application fee payment
- Must show proof of international health insurance. SBCC requires basic medical insurance, which covers illness and accidents abroad as well as the cost of returning students to the US if needed.
- Must complete and return all required legal documents by deadline
- Must attend the mandatory pre-departure meeting
- Should Costa Rica require a current and valid Covid-19 vaccination in order to access public spaces, no exemptions can be granted for the vaccination mandate.

There is no major or language requirement or pre-requisites for this program.

We strongly encourage you to purchase Trip Cancellation insurance with a CFAR/IFAR (Cancel for any reason/ Interrupt for any reason) add-on.

Acceptance and participation in the program is not guaranteed until you have completed the interview with the program director and all required documents are received by the Study Abroad office.

As long as SBCC has a Covid-19 vaccination requirement, so will this program. Additional Covid-related requirements may exist at the time of the program start. Masks are currently mandated in most public places in Costa Rica.

The courses that are offered as part of the program are usually transferable to the University of California and California State University. Check with your academic advisor for possible exceptions. You must enroll in all courses offered on the program (4 units).
Please note: Upon return from Costa Rica there will be 8 - 10 hours of additional course work.

PE 137 Beginning Surfing (1.5 Unit)
Designed to teach the fundamentals of board surfing, and provide beginning surfers the opportunity to safely develop the skills to ride waves. Paddling technique, wave selection, ocean safety, oceanography, equipment, tides, and surf etiquette are explained. Students must swim comfortably 100m non-stop in order to continue in course. SBCC General Education: SBCCGE Area E3
Transfer Information: Health and Wellness, CSU Transferable, UC Transferable - UC Transfer Limit: Any or all of these PE Activity courses combined: maximum credit, 4 units.

PE 146 Stretching and Relaxation (1.5 Unit)
Designed to enhance overall wellness related to body flexibility, injury prevention, and stress reduction for all adults, including athletes and non-athletes. Stretching techniques and their applications to active lifestyles, sports and stress management will be emphasized.
SBCC General Education: SBCCGE Area E3, Transfer Information: Health and Wellness, CSU Transferable, UC Transferable; UC Transfer Limit: Any or all of these PE Activity courses combined: maximum credit, 4 units.

SPAN 131A Beginning Spanish Grammar I (1 Unit)
Review of Spanish grammar fundamentals. Designed to increase accuracy of written and oral communication in Spanish. Class taught in English. Transfer Information: CSU Transferable

SPAN 131B Intermediate Spanish Grammar II (1 Unit)
Prerequisites: SPAN 131A or qualifying score on SBCC SoML placement exam.
Review of Spanish grammar at the intermediate level. Designed to increase accuracy of written and oral communication in Spanish. Class taught in English. Transfer Information: CSU Transferable

There will be Spanish Language Tutoring available on site.

$3,197

* based on 20-24 students
** includes $400 application fee/ first payment

Program Fee Includes:

Required field trips and excursions (see 'Program Highlights")
Housing as outlined under "Housing"
Pre-departure handbook
Pre-departure orientation
On-Site orientation in Manuel Antonio
Transit to or from the airport in Costa Rica as long as you are on the group flight or arrive prior and meet up with the group
Breakfast & dinner 7 days a weeek (see "Housing" for details)
Emergency contact 24/7
Free Salsa dance classes
Free Tandem Conversation Program
Free coffee and tea at the on-site snack bar
Office-wide WiFi
Daily transportation to and from surf location
Certified Lifeguard Surf Instructors and additional lifeguards

Program Fee Does Not Include:

Round-trip airfare (an optional group flight is available through Frosch Student Travel) see "Travel"
Passport or visa fees if applicable
Transportation to and from LAX
Transportation from the airport in Costa Rica to the designated arrival point unless you are on the group flight or can meet up with the group for group transportation
Meals other than those listed
SBCC tuition, fees, books (non-residents are required to pay out-of-state or out-of-country fees)
Personal expenses
Additional fieldtrips and excursions or activities to those listed
CFAR/IFAR Trip cancelation insurance (Highly recommended)
International health insurance (required)
Additional liability insurance (recommended for labtops, espensive cameras or phones etc.)
Anything not specified

$400 application fee due with application by March 26, 2023

Final Payment of $2,797 due by May 4, 2023

**Please note that a recommended CFAR/IFAR Trip Cancelation isurance must be purchased 24 hours up to 14 days after making the program payment depending on the insurance provider and policy.

Round-Trip airfare is not included in the program price.

An optional group flight will be offered on a space-available basis through Frosch Student Travel from LAX.

The group flight has a minimum requirement of 10 students in order to materialize. If 10 students are not registered for the group flight by Date TBD, the group flight will be cancelled. Therefore, students wanting to get on the group flight must apply for the program no later than date tbd.

Estimated cost (subject to change): $TBD

For the group flight transfer, Maximo Nivel will arrange a coach bus and/or taxi transfer from airport to the designated arrival point in Manuel Antonio.

Participants missing the designated group arrival transfer are responsible for checking in during business hours at the designated arrival point on the scheduled date of arrival and are responsible for all transfer arrangements and costs.

On the group departure date, Maximo Nivel will arrange a group departure transfer from the designated departure point in Manuel Antonio to the airport for group flight participants.

If the group flight gets canceled because it did not meet the 10 participants minimum, all participants will be responsible for their own transfer arrangements to and from the airport.

Double occupancy rooms with a host family. Exact housing placements will be given upon arrival.

Optional single room upgrade available for an additional cost $150.

Matrimonial rooms available for couples upon request.

APPLICATION DEADLINE: March 26, 2023

* This program will likely fill before the deadline. Program participants are accepted on a first come - first serve basis upon completion of the application process. We recommend you apply as soon as possible.

Please review the instructions below and gather all required materials prior to completing and submitting your online application. We are not able to accept you into the program until we have all completed required documents.

Partial applications will not be accepted. All required materials must be uploaded with the online application and all required signatures must be obtained before submission.

REQUIRED DOCUMENTS:

1. Photo: Please submit a recent photo that is a full-face view. Remember that you are applying for an academic program.

Photos not acceptable to submit: Any photos of you not fully clothed; photos with other people or pets; photos that don't clearly identify you.

Photos acceptable to submit: A recent close up photo similar to a photo you would use for a passport or official form of identification.

2. Student Conduct Release Form: You can download the form HERE. The top of this form must be completed by you and identify your legal name and term/destination of the specific program you are applying for.

The bottom portion of that form needs to be completed by the appropriate school official.

For SBCC, this school official is the Associate Dean, Dr. Christopher Johnson, located at Campus Center CC-222. You can submit the form to his assistant Candee Gyll at gyllc@sbcc.edu. Original signatures must be obtained. If you are not currently or have most recently been attending SBCC, you must submit the form to the school official responsible for student conduct at that school to complete the form. The School Official can also request a secure upload link by emailing nwalther@pipeline.sbcc.edu to submit the form.

Once the program reached its maximum participant number, applicants will be placed on a waiting list. Applications may be accepted after the deadline if space is available.

Click here to go to the ONLINE APPLICATION

Check your email frequently throughout this process leading up to acceptance and leading up to the program start after acceptance. It is your responsibility to be informed about additional tasks and meetin deadlines in preparation for the program.

WHAT HAPPENS NEXT?

Once the study abroad office staff has received and reviewed your completed application with required documents, the program director of the program you applied for will reach out to you to set up an interview. The interview can be held via Zoom if you are located outside of the Santa Barbara area and as long as SBCC offers remote services.

When you successfully completed the application process, you will receive an email notification of the acceptance decision with further information and instructions.

After you get accepted into the program, you will be required to complete and submit a Program Participation Agreement and the application fee to hold your spot on the program.

At the time the program has met its 20 student minimum, you will be notified that the program will move forward and receive the legal documents, which you are required to complete and return to the Study Abroad office by the provided deadline. At that time you can also purchase your flight ticket, enroll for the semester, and/or register for courses.

A pre-departure meeting will be held, usually at the end of the semester leading up to the start of the program. Attendance is mandatory for participants. Parents of participants are invited to join the meeting.

The SBCC Study Abroad Office will communicate with you primarily by e-mail. If you change any of your contact information after submitting your application, it is your responsibility to update the information with the Study Abroad Office immediately by sending your new information to nwalther@pipeline.sbcc.edu

If you are planning on going on the group flight, you need to apply no later than TBD

Any individual cancellation must be made in writing to nwalther@pipeline.sbcc.edu and is effective the date of the receipt by SBCC Study Abroad.

Please refer to Maximo Nivel's Cancellation policy below. SBCC is not liable for any changes made to Maximo Nivel's policies.

The following per-participant cancellation fees will apply:

60 - 30 days or more prior to the start of the program: $400
0-29 days prior to start of program: No refund

Should the program be cancelled by SBCC after the program start date, no refund amount can be guaranteed, although Maximo Nivel may provide credit

If at any time before or after the start of the program should a Travel Warning be issued by any official U.S. government agency advising American citizens not to travel to Costa Rica or SBCC determines that travel to Costa Rica Maximo Nivel will make reasonable efforts to reclaim refunds or payments not yet made to providers or subcontractors.

Detailed arrrival information will be provided to all participants approximately two weeks prior to arrival. Participants not able to check in during business hours at the designated arrival point may be required to make and pay for their own accommodations for the first night.

Transfer to and from the airports are not included if you arrive on the group flight or meet up with the group flight participants for pick up. Please see additional information under "Travel"

Service Provider: SBCC teams with service provider Maximo Nivel. Maximo Nivel is the leading organization in study abroad and educational travel in Latin America. They are an internationally-accredited organization with 4 local institutes in 3 of the world's most beautiful countries including Costa Rica.

Follow SBCC Study Abroad on Instagram for meeting announcements, information and photos from past programs and more @studyabroadsbcc

Program Orientation: A mandatory pre-departure meeting will be conducted at SBCC at the end of the spring 2023 semester and will introduce the academic course work, address general aspects of study abroad and cross-cultural learning and provide practical information regarding preparation and travel. Please check with the Study Abroad Office for the exact date before you make your travel arrangements.

An on-site orientation in Manuel Antonio will be held by Maximo Nivel staff on the day after arrival and cover practical matters including safety in the area, as well as aspects of cross-cultural living and learning, giving program participants the tools they need to make the most of their time in Costa Rica.

Program Provider:
Santa Barbara City College
Study Abroad Office
Nicole Walther
International Education Center, Room 1
721 Cliff Drive
Santa Barbara, CA 93109
Phone: (805) 730-4294
nwalther@pipeline.sbcc.edu

Please note that as long as SBCC has a Covid-19 vaccination mandate, this program will also have a Covid-19 vaccination mandate.
Any information on this site is subject to change without notice.
Share the Paris experience with students who went there with previous programs!