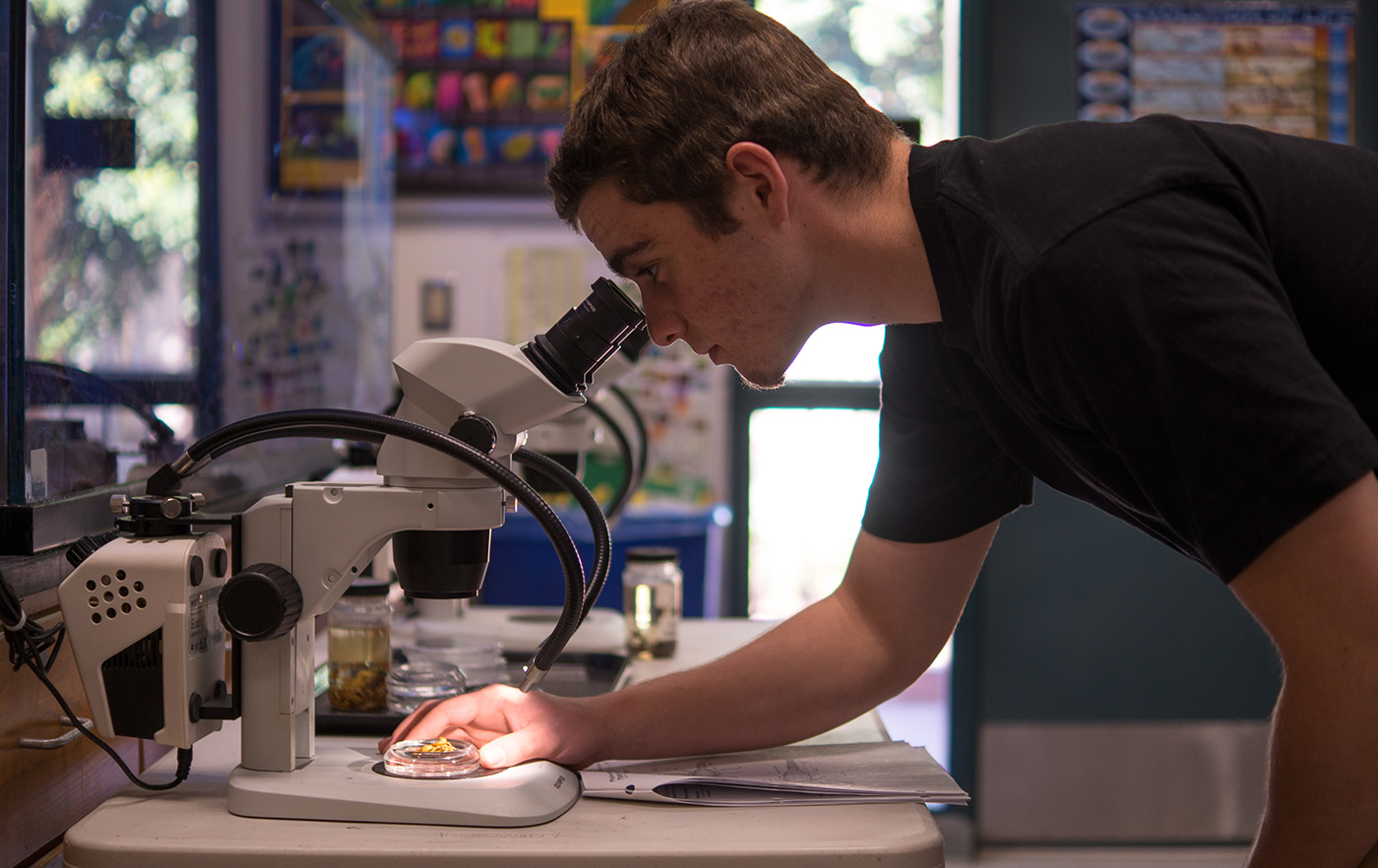 Biological Sciences
Associate in Arts (AA) and Associate in Science for Transfer (AS-T)
The Biological Sciences major is designed to provide a strong foundation for students interested in life's structures and functions from perspectives of molecules and cells, organisms and populations, and ecology and evolution. In order to achieve an Associate in Arts Degree, a student must complete a minimum of sixty (60) units of work, which must fulfill General Education, SBCC and department requirements. Biological Sciences Associate Degree Graduation Requirements. Students who plan on attending a California State University (CSU) can complete the transfer associate degree, Biology, Associate in Science for Transfer (AS-T), and transfer with junior standing into the CSU system.

Special problems confront the student planning to transfer to a four-year college or university. Both General Education and major requirements differ from one institution to another and within a single institution by major emphasis. These differences, plus personal, educational and professional goals, employment and prior preparation, will influence the courses you take. You should work closely with your academic counselor and also visit one of the Biological Sciences Faculty Advisers, Eric Wise (EBS-324, 805.730.4317) and Blakely Barron (EBS-322, 805.730.4244), for assistance in planning your program of study at SBCC. If you plan to transfer to either a UC or CSU campus, assist.org can guide you with your class choices. At assist.org you can see exactly which courses different transfer institutions recommend you complete at SBCC for your major.
Declaring a Biology Major
If you have decided to major in biology, or you are not sure but are strongly considering it, declare a biology major. Declaring your major protects you from changes of departmental requirements. You will be able to follow either the rules in effect at the time you declared your major, or the rules as later changed. Further, by declaring a biology major you meet one of the requirements for scholarships offered by the Biological Sciences Department. You may declare a biology major at the time you register at SBCC. Any time thereafter, you may declare a biology major or change your major by filing a "Change of Major" form at the Office of Admissions & Records or online through Pipeline.
General Education
It is very important for biology majors to complete the preparation in the major even if it means delaying some General Education/IGETC requirements. The science curriculum is sequential, controlled by prerequisites; you do not want to be in the position of taking freshman science classes as a junior.
Preparation in the Major
Since biology courses are built upon a base of mathematics and the physical sciences, it is important for biology students to begin these courses early so that they may be completed before transfer. The areas of highest concern are Mathematics, Chemistry, Physics and preparation in Biology.
• Mathematics
Statistics is more widely applicable in biology than is calculus, yet most institutions require calculus because of its utility in rate-oriented biology. You should attempt to complete Elementary Statistics (MATH 117: Elementary Statistics) and a calculus sequence (MATH 130: Calculus for Biological Sciences, Social Sciences and Business I, MATH 131: Calculus For Biological Sciences, Social Sciences And Business II or MATH 150: Calculus with Analytic Geometry I, MATH 160: Calculus With Analytic Geometry II) prior to transfer. If you are not eligible for these courses based on your placement exam scores, immediately enter the mathematics sequence at the recommended course level.
• Chemistry
It is difficult to understand modern biology without at least an introduction to organic chemistry. Students without prior chemistry background may need to take CHEM 101: Introductory Chemistry before beginning the General and Organic Chemistry sequence (CHEM 155: General Chemistry I, CHEM 156: General Chemistry II, CHEM 211: Organic Chemistry I, CHEM 221: Organic Chemistry Laboratory I, CHEM 212: Organic Chemistry II, CHEM 222: Organic Chemistry Laboratory II). Note: however, that some universities require upper division organic chemistry. If so, complete organic chemistry after transfer.
• Physics
There are three physics sequences for biology majors. General Physics (PHYS 105: General Physics, PHYS 106: General Physics) requires algebra and trigonometry. The other two sequences require calculus. These sequences are PHYS 110: Introductory Physics and PHYS 111: Introductory Physics, and PHYS 121: Mechanics Of Solids And Fluids, PHYS 122: Electricity and Magnetism, and PHYS 123: Heat, Light and Modern Physics. Again, colleges and universities differ as to their physics requirements. Many require calculus-based physics.
The information for this table came from the schedules of classes for 2018 and 2019. Verify with the correct department that the required class will be offered in the semester you want to take it.
Biological Sciences, AA. Required and recommended courses and the semesters they are usually offered.

Semesters class is offered
Required
Classes
Class #

Fall

Spring

Summ. I

Summ. II

Prerequisites

BIOL
101
X
X
MATH 107 or MATH 110C or Math 137C or SS 110C or equivalent
102
X
X
MATH 107 or MATH 110C or Math 137C or SS 110C or equivalent
103
X
X
CHEM 155 or CHEM 104, MATH 107 or MATH 110C or Math 137C or SS 110C or equivalent
CHEM
155
X
X
X
X
1 year high school chem, MATH 107 or MATH 110C or Math 137C or SS 110C or equivalent
156
X
X
X
CHEM 155
Classes recommended for transfer

Fall

Spring

Summ I

Summ II

Prerequisites

CHEM
211
X
CHEM 156
& 221
X
CHEM 211
212
X
CHEM 211
& 222
X
CHEM 221 co-req. CHEM 212
MATH
117
X
X
X
X
MATH 107 or equivalent
130
X
X
X
X
MATH 137 or equivalent
& 131
X
X
MATH 130
or
150
X
X
X
X
MATH 138 or equivalent
& 160
X
X
X
X
MATH 150
PHYSICS
105
X
MATH 120
& 106
X
MATH 120, PHYS 105
or
110
X
X
MATH 130 or MATH 150
& 111
X
X
PHYS 110 and MATH 130 or MATH 150
or
121
X
X
PHYS 102 or trigonometry based high school physics and MATH 150
& 122
X
PHYS 121 and MATH 160
Students who plan on attending a California State University (CSU) can complete the transfer associate degree, Biology, Associate in Science for Transfer (AS-T), and transfer with junior standing into the CSU system. The Biology AS-T requires completion of IGETC-CSU for STEM see https://catalog.sbcc.edu/transfer-curricula/
• What is the IGETC-CSU for STEM?
Students preparing for a major in science, technology, engineering, or mathematics (STEM) are eligible to complete IGETC (Intersegmental General Education Transfer Curriculum) for STEM Majors, a separate IGETC track designed specifically for these disciplines, or the GE Breadth for STEM.
For certification under IGETC for STEM Majors, students must complete:
All courses in Areas 1 (

English Communication)

, 2 (

Mathematical Concept and Quantitative Reasoning)

, and 5 (

Physical & Biological Sciences)

of the traditional IGETC; and
Two courses in Area 3 (

Arts & Humanities)

and two courses in Area 4 (

Social & Behavioral Sciences)

.
This general education plan will allow STEM students to concentrate on the required lower-division math and science courses needed for success in the major. Work with your academic counselor to decide whether your transfer to a 4 year school allows IGETC for STEM Majors or whether you require the traditional IGETC certification.
• Transfer to UC
https://admission.universityofcalifornia.edu/admission-requirements/transfer-requirements/transfer-pathways/biology.html
If you're working on an Associate Degree for Transfer (ADT) in biology at your community college, there's a lot of overlap with UC Transfer Pathway coursework. The difference between what UC expects and what some ADTs require is a year of organic chemistry. Also, while the UC Transfer Pathway does not require physics, some UC programs do require one year of calculus-based physics with lab before graduation from UC. To fulfill the physics requirement for both the ADT and those UCs, take calculus-based physics, not trigonometry-based physics. Additional courses required for an ADT may be eligible for UC credit at some campuses. Check ASSIST for details.
• Starfish Degree Planner
The Starfish Degree Planner is an electronic educational planning tool that allows you to check your status toward an SBCC Degree or Certificate based on your SBCC coursework. Counselors prepare Student Educational Plans (SEPs) in the Starfish Degree Planner to help students map out their pathways to their goals. Access the Starfish Degree Planner by logging into Pipeline and going to Course Planning under the Student tab. Click HERE for step-by-step instructions to access the Starfish Degree Planner.
---