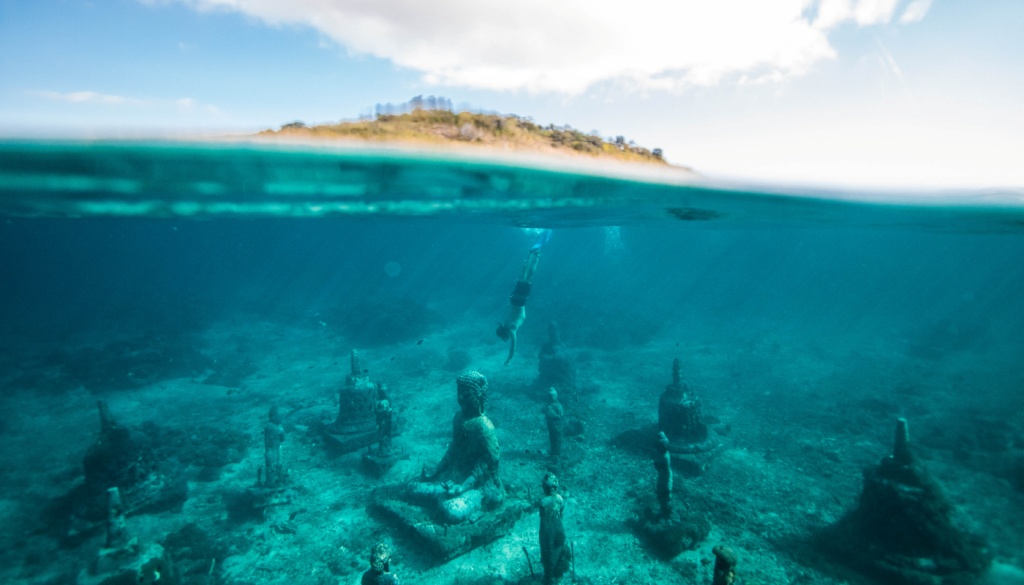 June 25, 2019
Explore Bali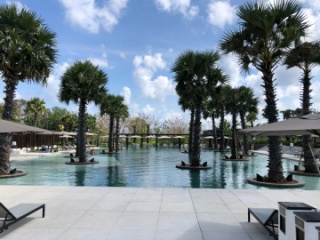 "I have been to Bali and while traveling on your own is a little different than going as part of a study abroad program I want to provide you a general idea of what to expect when you visit this beautiful island.
I am very passionate about travelling the world and the one place I always wanted to go to was Bali. I have not been there in the last years because whenever I had holidays (December and February) the rainy season in Bali began and it was hard to get there. After I graduated high school in 2018, I did an internship in Hong Kong for about four months and finally had the chance to visit Bali afterwards. I went with my boyfriend and while we only stayed six days, I would recommend staying at least 10 days to see more of the beautiful places Bali has to offer.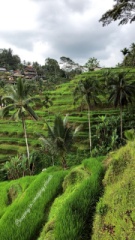 Based on recommendations a friend gave me before we left, we stayed four days in Uluwatu and then moved to Ubud. We decided not to go to Canggu. The water there is not clear blue because of the black sand and it is more crowded than Uluwatu. Although if you stay longer in Bali, I would recommend Canggu for two days as you will find all the picture-perfect Instagram places there.
Uluwatu was one of the most beautiful places I have ever seen. Cute beaches, , amazing food with alot of vegan and vegetarian choices like smoothie bowls and smoothies etc.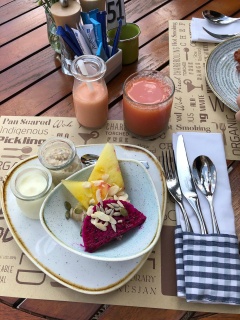 One advantage of Bali is that you don't have to spend a lot of money on food. We never paid more than $25 for the two of us. In Uluwatu we booked a really nice hotel (Radisson blu) but I can also recommend bookingan Airbnb as they are really cheap and fancy. The same is true for housing in Canggu.
While we were at Padang Padang beach we took a surf lesson. It was so much fun! That particular beach is also great for just chilling and tanning.. A nice beach club we went to was "Sundays Beach Club." I can highly recommend it! They have campfires at the beach and you can enjoy the gorgeous sunset while listening to music "Single Fin"is another must do during sunset hour. Thiscool spot to watch the sunset, includes watching the surfers and while sipping on cocktails. Insider tip: on Sundays they have always great parties there.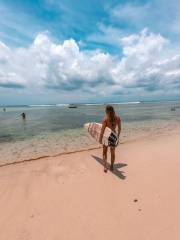 After four days of endless beaches, sun and a sunburn I we went to Ubud which is the complete opposite of Uluwatu. You can see the most beautiful rice fields and see the jungle as far as you can look.. We stayed in an Airbnb which had the most delicious breakfast on earth. While in Ubud you should just chill, relax, and take a Yoga class at "Yogabarn," the most popular Yoga spot in Ubud. It was a very nice experience even for my boyfriend who doesn't usually do yoga.
Another recommendation while you are in Bali is to get as many massages as you like. We only paid $15 for one hour per massage and they were very relaxing!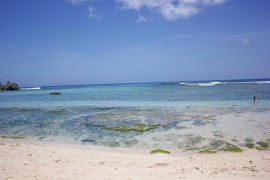 Furthermore in Ubud you should definitely visit some rice fields, waterfalls and swings. Just ask the locals on where to go. What we didn't get to do, but I will definitely do when I come back - is visiting Nusa Penida.
Honestly, I could have stayed in Bali forever because the spirit of this island is just amazing! The people in Bali are so kind and friendly.
To get more excited about your upcoming trip to Bali check out some Instagram pages about Bali. You will find tons of pics and for sure be overwhelmed by the beauty of this small island."
Want to read from our official student blogger Natalie Blackwelder who went on the Marine Biology, Geology, and Anthropology program in Bali in the Spring 2019? Check it out HERE. You can also find all the spectacular photos from the program on Instagram!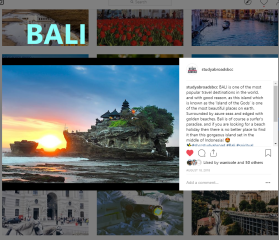 Follow us on Instagram
About Alina Breisach: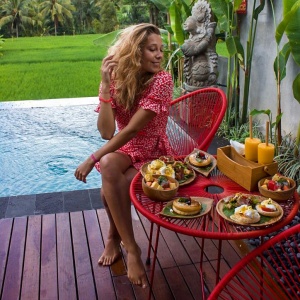 Alina Breisach is a self-described travel addict. While recovering from scoliosis surgery at age 14, Alina was able to find her real passion. She decided to worry less about what she was no longer allowed to do after a long recovery from the surgery and started traveling the world. Currently the 19-year old Austrian is interning in Hong Kong and already preparing to visit Shanghai, Thailand, Amsterdam, Maldives, and Sri Lanka. You can follow Alina's adventures on Instagram @alina_breisach.